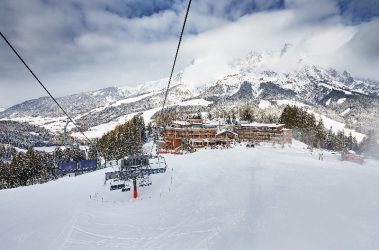 Skiing: Whether Skiing, snow-boarding or carving, experience the Skicircus Saalbach Hinterglemm Leogang up close, with it being directly on Forsthofalm's doorstep. With over 200km of perfectly prepared pistes and a mountain ski lift to take you to the summit, you can experience the astounding scenery and panoramic views of this beautiful area just a stone's throw from the resort.
Fitness Programme: We have a range of excellent fitness classes with dedicated instructors in the beautiful surrounding of the Sky spa. Try indoor, outdoor and snow yoga or get fit in our well-equipped gym that gazes upon the mountains before jumping into the outdoor heated rooftop pool with 360 views across the alpine landscape!
Snow Shoe Hiking: Take in the calming silence of the mountain surroundings in close proximity with a snow shoe hike through the mountains. With nothing but the blanket of snow in front of you and the surrounding alpine landscape to distract you, this walk will leave you feeling at one with nature. Guests can then return to the hotel for a well-deserved culinary delight at Restaurant Kukka.