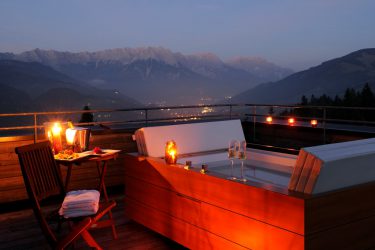 In our busy on-the-go lives we all need some downtime to find calm and refuel. Here's why you should try Forsthofalm:
Spa moods: Our specially designed mood barometer selects the massage your body requires for you by establishing which category applies most to your current state: Brain, Energy, Love, Muscle or Soul. You will retrieve your focus, energy and inner balance through our tailored treatments here at Forsthofalm.
Active escape: Our Mountain Life Programme offers guests the opportunity to get active amongst nature in order to reinvigorate the body through a wide variety of activities from skiing, hiking and fat-biking to indoor/outdoor and yoga. Experience our new Fitness program which includes XCO Training, Hot Iron, Bootcamp, Blackroll Faszientraining. The combination of exercise and fresh mountain air will refresh both the mind and soul.
Refuel around the grill: Finish your day around our wood grill where you can enjoy a specially prepared steak or vegan delicacy with friends. Our delicious dishes are smoked on the fire with the local mountain herbs. This method of cooking produces less fat and a more intense taste and is sure to be a highlight of your stay.
Bathe in the mountains: The 360° panoramic heated outdoor pool will settle the busiest minds whilst the fresh mountain air will invigorate the body. If privacy is what you are looking for, why not try a warm bath with views over the alps accompanied with champagne and chocolate – a night in has never been so good!