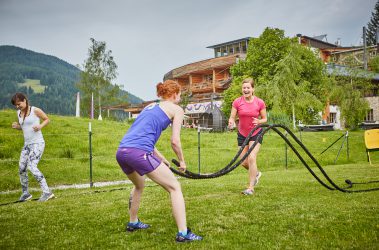 With its year-round attraction, Forsthofalm is the retreat for any explorative or relaxing escape to the mountains. Here are five reasons why Forsthofalm makes for a fun and energetic summer getaway:
Sky Spa: The outdoor heated rooftop pool surrounded by the sun blushed decking and its panoramic mountain views is a dreamy backdrop for any lazy summer day.
Access all areas: Take advantage of the Leogang Mountains with the "Lion Alpine Card" a host of benefits and discounts to accelerate into the world of biking, hiking and adventures.
Let's get physical: Forsthofalm's dynamic new fitness programme will have you learning to love the burn whilst having the option of enhancing your senses with classes outdoors amongst nature.
A road less travelled: Mount one of Forsthofalm's state-of-the-art E-Mountain bikes and make off road discoveries.
Eclipsing a relaxing day: Nothing says summer more than dining al fresco, so assemble beside an open fire on one of the hotels regular Fire & Wine.
To find out more about summer adventures click here.