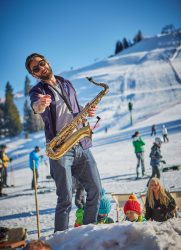 When taking a vacation, we know that food is an important part of creating an unforgettable experience and we've kept this in mind!
Traditional Austrian Afternoon Tea or 'Jause': An array of hot and cold specialties to warm you up and hit the spot after a day on the Alps, whilst sharing a little of the Austrian way.
Continue vegan-uary vibes: Our vegan restaurant, Kukka offers a delightful menu of innovative and hearty meat-free dishes prepared by our brilliant chef.
Bio Steaks: We have something for everyone! Our bio organic steaks are specially prepared with hand-picked herbs from the Alps and cooked over our wood grill – you have to try it!
Sundowner: What better way to enjoy the sunset than to kick back after an active day with one of our exclusive cocktails and some evening entertainment with our live acts. We've thought of everything.